I can feel the energy returning to the PsyQuation platform as we firmly establish our business model and direction as a fintech startup. We are not just an elaborate alert system, but rather a platform that carries on what Vlad and I started in 2012 with RAPA.
The PsyQuation platform of today matches talent with capital, we help you construct an optimal portfolio, we help you manage the risk and monitor the performance of a multi-manager portfolio, we also help you manage your account better telling you where you are making mistakes along with an intraday performance interface that provides you with the necessary information to better manage your account.
As PsyQuation helps traders become more profitable, increasing their lifespan, we are a true retention tool for brokers, and through our license agreements with brokers we get to offer you the trader our services for free.
We have facilitated $4 million of capital allocations to-date and we expect to continue being active on this front, so get connected and see if you have what it takes to get an allocation.

Martingale & DCA
Many of you will have encountered our Martingale & DCA alert, so you might be asking what does this mean for you as a trader. 
We have developed a martingale test where we tag a trading account as a martingale whenever a certain pattern in position sizing is observed. In particular, we say the trading account is a martingale if we identify a pattern in one symbol where the trade sizes grow with multipliers (1; 2; 4; 6) with each consecutive trade and this pattern happens more than ten times per month. See below the median performance of accounts categorised as martingale or non martingale.

As with martingales we have performed a comparison of DCA and Non DCA accounts. We tag a trading account as a DCA if 4 trades in the same instrument are opened in a sequence with constant price difference and this happens at least ten times per month.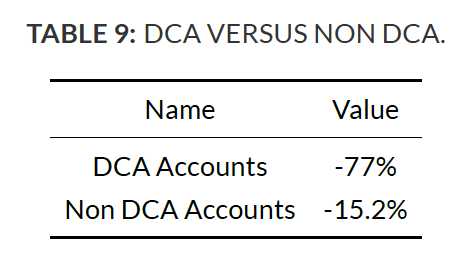 Authenticity
Jungian analyst Anja van Kralingen writes a wonderful critique on the way some of the new age thinkers believe we can simply transform into a better person with some simple attitude changes. On the contrary you cannot become better until you know who you are:
You have a temper, you get irritated, you want things perhaps you shouldn't. These characteristics and desires are qualities that possibly you don't like in yourself, that you judge as faults in need of remedy. They are, nevertheless, authentic, what you feel, believe and experience, if you are honest with yourself.  You feel emotions that confuse you. You scare yourself sometimes with your secret thoughts. You are ashamed and embarrassed about who you are. Yet these are the things that separate you from others, make you who you are, make you unique. Everything about you that differs from the norm is authentic. It is in this difference that you as an individual exist, outside of any faceless statistical aggregate. Authenticity is about being honest with yourself about who you are, where you are going, what drives you, what you do not like, what enchants you, what you love. It is your unique perspective. It is your psychic fingerprint.
I believe through the PsyQuation alert and ranking system we have the ability to discover our authentic trader selves. Maybe we are not as good as we think we are, perhaps we are not as disciplined as would like to believe we are with our trade setups. Worse still maybe we simply don't have any edge. The first steps towards becoming a better more enlightened trader is to consciously learn and respect who you are as a trader. Go for it, explore and ask yourself those tough questions and learn to accept who you are right now. Amazing things happen when you discover who you really are.
Looking forward to more profitable trading together. 
The PsyQuation Team