I have been suffering in a world of pain trying to short the stock market. I am trying to make it into the AxiSelect program to get an allocation of $350,000. You can follow my journey with the links at the bottom of the letter. If you read my daily torture you will read a monotonous series of posts of me saying how I hated the markets. You would also think that I am losing a fortune. However, in the image below you can see my equity curve hit a new all time high and the message I want to convey is that while I was wrong for over a monte I was able to keep losses to a reasonable level so that when the market finally turned in my direction I was able to take full advantage. My number one lesson I tell aspiring traders is – stay in the game.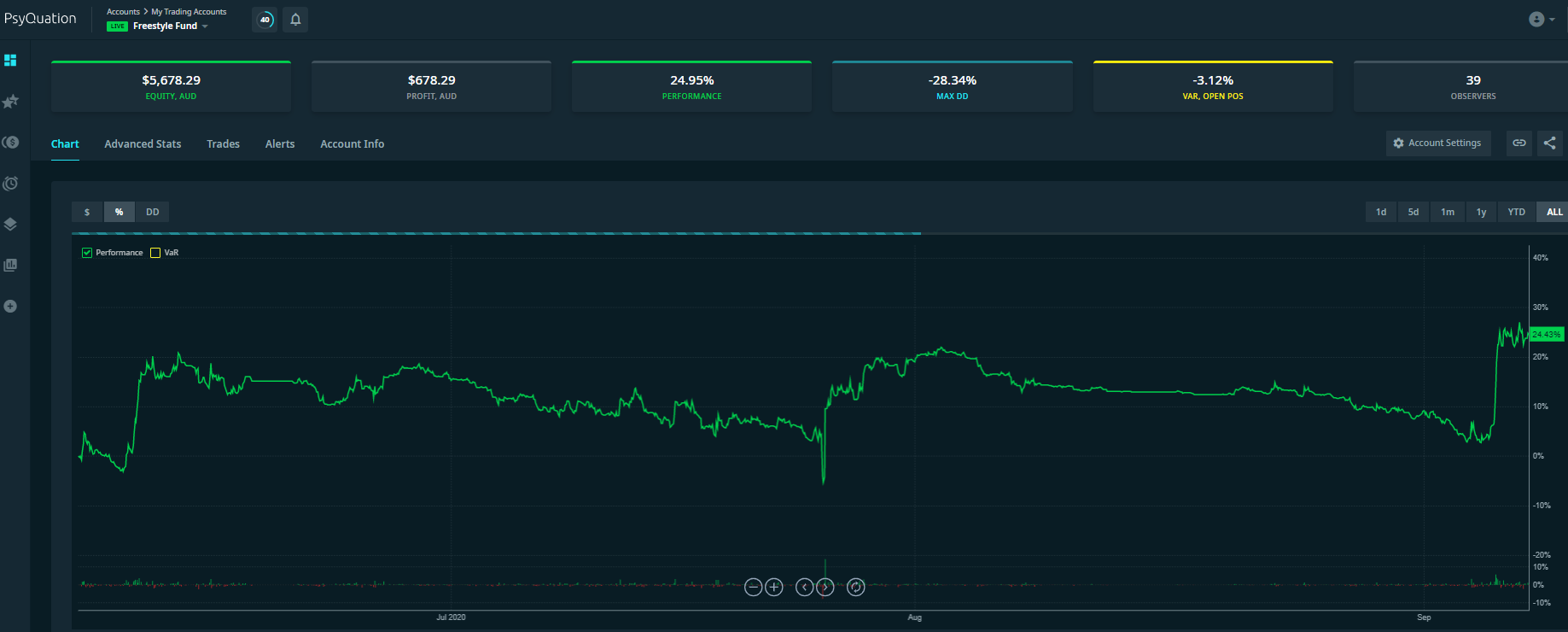 We have a trading tool called MAE / MFE (maximum adverse excursion / maximum favourable excursion) that helps you take a deeper look at your returns. I have highlighted 3 with red circles. The one on the top left is green which means it was closed profitably. The trade made a 16% return and had almost no drawdown, tiny MAE. The circle of the green triangle on the far right is showing a trade that closed profitably 0.1%, as it is green, but it had a very large drawdown MAE of -7.4%. You can see all the stats when hovering over the triangle. Finally the red triangle circled shows a trade that lost -5.62% with its worst drawdown reaching – 6.56%. I believe this is an excellent tool to do post trade analysis looking for strengths and weaknesses in your trading.
Stocks only go Up
The past few months have been pretty crazy in the markets, with economies reporting their worst economic contractions since the great depression we have witnessed one new record stock market high after another. One of the leading narratives have been the rise of the retail trader lead by the chief cheerleader Dave Portnoy with his "stocks only go up" mantra. Last week we witnessed an record skew in the number of call versus options bought. We all thought that was the story, but there is more to it.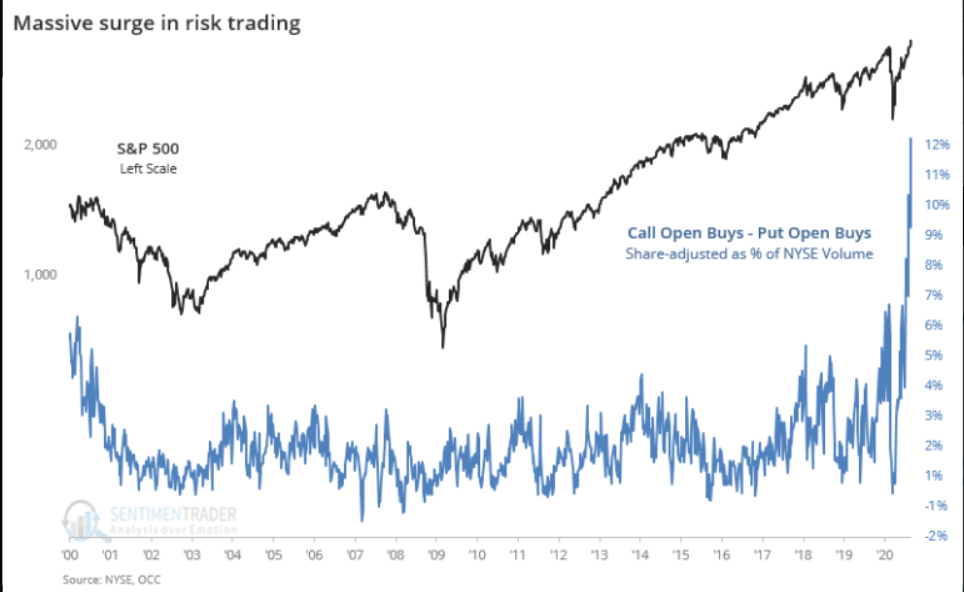 I am not sure how many people read the Wall Street Journals story Softbank's Bet on Tech Giants Fueled Powerful Market Rally. Herein lies another amazing story of excess and a further clue into the driver of the rally in the markets. Zerohedge were the first to bring this story to our attention. For those who don't know about this company you really need to read about its founder and CEO Masayoshi Son. He has made a fortune ridding the wave of early investment success in Alibaba, Uber, TikTok owner Bytedance. What we have always seen with him is his enormous bet sizing, we saw it work heavily against him recently with his $18 billion plus investment in WeWork and with Wirecard.
What not many people knew was that deep inside Softbanks latest quarterly report on page 68 was the announcement that they were launching an "investment management subsidiary".
On the back of the retail investment craze in call option buying, Softbank has bought more than $4 billion of call options on tech heavyweights giving them a notional investment of more than $100 billion. For those of you who understand option market making, to hedge the risk of writing call options the market maker needs to buy the underlying stock to hedge their short gamma.
What in fact we have been witnessing in the northern hemisphere summer is an incredible feedback loop that has driven the market way above any rational sensibility. These powerful derivatives have driven the market up and the more the market has gone up the more the market makers have had to go into the market to buy the underlying stocks to hedge themselves all the while the merry band of retail punters have jumped on believing as Dave says, "stocks only go up".
Nobody knew that it was the Softbank whale driving the markets as he was able to make his purchases through various offshore entities that were difficult to link back to his company.
On Thursday last week we saw the first signs of a crack in the markets with the Nasdaq dropping more than 5%. I am very interested to see if we can bank on a soft landing.